Here is a list of 1-1.5 hour length veterinary education that will fit into the standard conference education grid.  All lectures typically include professionally-crafted take home materials and inclass exercises to get the group interacting, thinking and engaged.
Management Practices of America's Top Hospitals
RACE Approved 2 CE Credits
In 2016 a group of researchers looked at the management practices of America's top hospitals and searched for similarities.  This is a fascinating lecture on the power of planning and strong leadership.  It details a short list of must-management practices and reviews the positive impact that they have on hospital teams.  This lecture always engages the audience.  It leaves them recharged and ripe for change.
Effective Client Communication for All Veterinary Professionals
RACE Approved 2 CE Credits
Okay, are you ready for the lecture that's going to get everyone laughing, interacting, THINKING and talking about excellent client communication?
Attendees have said things like 'this was the best lecture I have ever attended' and 'this was amazing…so much fun!'  Audience members listen slack-jawed to some of the innocent, but hilarious mistakes we can make on the telephone as a precursor to an exploration of the question, 'what is effective client communication?'
This lecture has succeeded in every setting.  It's a great lunch and learn for practice teams, but also plays exceptionally well to conference audiences.  You can bring this lecture in with 100% confidence. It never fails to entertain audiences and stimulate thought.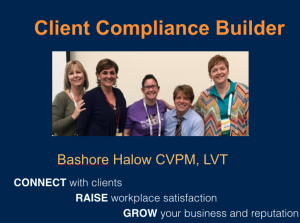 Client Compliance Builder

RACE Approved 2 CE Credits
Let's boost your practice's client compliance.  It won't be that hard!  We'll excite your team members and grow their ability to work harmoniously along the way; we'll catch disease earlier than we have in the past; we'll distinguish ourselves from the competition…can we get started already?
This fast-paced engaging lecture comes with clear step-by-step instructions for how to get started, worksheets to help team members understand your standards of care and their value, meeting agendas, benchmarks, and a template to help you track your practice's success.  This is a standards of care and compliance plug-and-play!
But the best part of the lecture comes in the second half.  Attendees are organized into small groups and will take 'part' in a fictious team meeting.  They'll explore the best way to organize a group of people around a single goal like improved compliance; what to say and not say; how to capture the buy-in of the group; and how to follow through with action.  This highly realistic (and very funny) look at team meetings will fill the room with laughter, Ah-Hah moments, and passionate discussion.   The whole lecture is a great way to help audiences intellectually understand what needs to get done and get a feel for how to do it right.
Lecture addresses preventatives, early detection blood tests, parasite screening and non core vaccines.
Compassion Fatigue:  Healing the hospital and healing your heart
RACE Approved 1 CE Credit
This lecture includes a self assessment for compassion fatigue, a discussion of the signs and symptoms of the disorder, but most importantly provides ways that hospital leaders can limit the occurrence of CF in their practices.
Conquering the Cold Shoulder
Communication that kills your practice's morale and what to do about it
What's worse than being spoken to harshly at work?  Not being talked to at all!   An eye opening discussion on the legal and the emotional impact of overt and covert workplace hostility. Includes an interactive learning tool that gets the whole group involved (including anyone that may have previously been cold-shouldered out of the group).  Surprising data from recent research on workplace ostracism completed at the University of Toronto is also sure to make an impact.
If your practice leaders are telling you that workplace strife and communication issues are a problem, bring them this lecture.  Everyone leaves uplifted and ready for change.
You WILL leave here a Blogger!
Ideally a 2-3 hour time slot
Many cringe at the thought of having to write a blog. What for?  Who'll read it?  How will I find the time?  And yet, nothing beats blogging when it comes to representing your real value AND improving your ranking with search engines.
This is the day you will learn to love blogging. We'll break it down into its simplest components, take you behind the scenes and inside your website.  We'll show you how to draft the copy, how to optimize it for best search engine results, where to find compelling graphic art to add to it, and how to invite your clients and potential new clients to read it. Bring this lecture to your veterinary professional audience!  This is vital information that they need to remain competitively visible online.  EXCELLENT audience take-home resources. Also, GREAT for niche service providers like cat-only or fear-free practices.  We'll show these guys how to grab up valuable, free online visibility…all with blogging!
Leaders, You Are Not Alone
But maybe if you feel you are, you're doing something wrong
Think that it's lonely at the top?  Bash Halow spent most of 2015 interviewing our country's top veterinary practice leaders for some insight into their success, their survival,  their sanity, their inner strength, and peace.  This uplifting lecture shares the thoughts of top veterinary practice leaders who have optimized management systems to improve company morale, raise productivity, and get employees to think and act like veterinary hospital owners.  Includes an exercise for small working groups that explores the building blocks of excellent leadership and engages them in thought and discussion.  The last 10 minutes of class will be spent in complete silence as attendees reflect on and write about a single personal growth goal that will improve their leadership success.  This class always makes an impact.
Leadership for Technicians
A primer for the veterinary technician whose been advanced to 'head tech'
Too many technicians have been advanced to the position of 'head tech' but given little training.  Bash Halow, LVT, CVPM engages veterinary technical leaders in a discussion about the challenges and goals, and then provides them with a foundation of leadership practices they can employ successfully when they return to their practice.
The Money Shot
 Five fast, hard and surefire ways to improve your bottom line
Here are 5 ways to make an immediate impact on the bottom line.  We'll give you step-by-step instructions for each and caution you against some of the things might stand in the way of your success.  These are things we do regularly with many practices.  If you have attendees expressing an interest in a fast way to growth, this is the lecture you want to provide for them.
10 Disastrous Leadership Habits
And what happened when I tried them
Poignant, funny and unfortunately all real.  This is a from-the-trenches retrospective of basic management principals and what happens when they aren't implemented correctly.  The lecture not only makes a strong case for management practices that we often ignore, but gives attendees a brand new insight into why they are important and how to successfully employ them in their practices.  It's a session that never fails to engage and please audiences.  Really gets the laughing, thinking and talking.
The Irresistible Practice Profile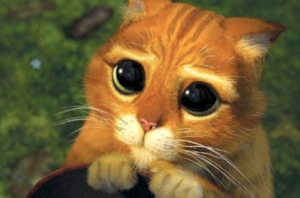 Eight management practices that significantly increase practice value
Make your practice irresistable to prospective buyers and partners.  This exceptionally informative lecture dissects practice valuation into its basic components and discusses the management practices that significantly drive practice value, but more importantly client service, patient care and employee engagement!   This is essential information for all practice owners and managers irrespective of their interest in selling their business. Managing for value means managing for service and growth and that's a strategy everyone in management needs to learn.
Marketing Monster
The 10 best things you have not yet tried (but should) to successfully market your practice and attract new clients
Jump into the future with these affordable, eye-catching marketing ideas that rally your team together and capture the interest of prospective clients.  Filled with real-life examples of marketing materials built for veterinary practices and that are working for veterinary practices.  If you hear a complaint about this lecture it will be, 'my arm hurt from taking too many notes'!


US Labor Law and the Damned if you Do, Damned if you Don't Bugaboo of Employee Discipline
End the go-no-where rancor of employee write ups. This lecture is a passionate entreaty to reverse a practice that too many employees find demoralizing and one that does little to change behavior. Includes a retrospective of major federal labor laws, including the work of the EEOC and a careful look at the Unemployment Commission before making recommendations on a more productive approach to employee discipline.
Veterinary Business Model of the 21st Century
Unprecedented challenges are forcing practice owners to rethink the way they do business
In this rough and tumble market of increased competition and lower margins, some veterinary practices are exploring an entirely new business model. Review the services, pricing, and marketing of the successful practice of the 21st Century in this captivating lecture.  This is a GREAT retrospective of the best new communication and practice building tools on the market.
 Shopaholic Pharmacy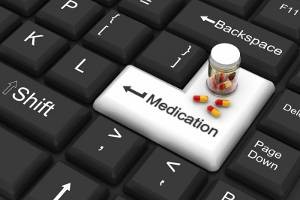 The era of putting your practice online is upon us
Build an online pharmacy that your clients come back to again and again.   See the financials behind practices that have transitioned their inventory from the real world into the virtual one, freeing up thousands of dollars in cash flow and providing clients with a more convenient way to shop for Fido's Rimadyl and Kitty's W/D. Comes with great examples of online pharmacy marketing tips.